Note to my readers:
Due to being away for exam season I haven't been free to post for a while. I was upset to miss out on a lot of the Top Ten Tuesdays (the Broke and the Bookish) so I have decided to do a mash up of all the ones I have missed, now that I am back! But I will only do my
top five
and use minimal images as i would be here for a long time otherwise.
Top Ten Tuesday Mash Up
April 29th – Top ten books if you like Beauty and The Beast TV show. 
1. Night World Volumes 1, 2 & 3 – L.J.Smith
This book series is full of heart wrenching tales of supernatural creatures and their love with strong humans – just like in BatB! Also some of the stories face a love triangle of which is similar to Cat, Vincent and Gabe's in BatB.
2. The Wolves of Mercy Falls – Maggie Steifvater
Again it contains a romance between werewolves and a human who is very strong. It also has a desperate and very human struggle that the supernatural creatures face just like they face in BatB.
3. Unleashed – Nancy Holder
Again is has a human, werewolf  romance and a battle.
4. Stray – Rachel Vincent
Were-cats instead of werewolves but aimed for an older audience more suited for the BatB target audience. It contains a very real struggle between love and hate similar to that faces between cat and Vincent. Oh and the authors surname is the name of one of the BatB leads.
5. A Discovery of Witches

– Deborah Harkness
A battle between supernaturals and love to a strong minded human. 
May 6th – Top ten book covers I would frame as a piece of art.
1. The Hunger Games – Suzanne Collins
 These covers are so simple but so stunning i really wish I had bought these instead of the black ones! I love the engraved titles and logos on the shining gold, silver and red surfaces. Eye catching and beautiful!
2.Sherlock Holmes: A Study in Scarlet – Sir Arthur Conan Doyle – BBC Edition
Ok ok this isn't on here as i like the art work… it's on here because i would frame any picture of martin freeman and Benedict Cumberbatch that I could get my hands on….
3. The selection – Kiera Cass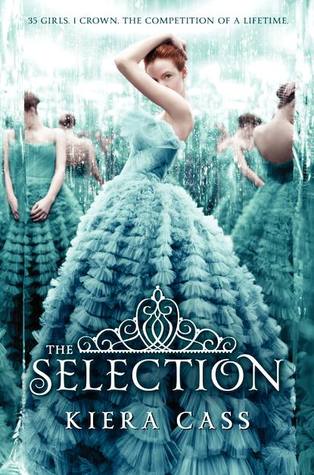 This cover is so beautiful, the dress is stunning. I love the mirrors and the colour contrasts. Shame I have this book on Kindle (Although I havn't read it yet) as I can't stare at the cover and it's all in black and white…
4. Unleashed –
Nancy Holder
This cover just sums up the novel perfectly, dark and spooky with a girl who is pure and kind and very very brave.
5.  House of night – P.C and Kristen Cast
I have always loved this cover and the beautiful shiny embellished swirls (which are difficult to see online). I also love the simplicity and the contrast between the black and pink. I love the font and the moon above the writing as it sums up the novel perfectly. Even the model is great as it shows Zoey before she gets all of her markings (depicted on the covers of the rest of the series) clearly showing you that this is the first novel.
May 13th – Ten books I almost put down but didn't.
1. Under the dome – Stephen King
This book was so slow to start I nearly gave up about 10 times until it hit about page 500 and suddenly became amazing! (the ending was still terrible though the middle made up for everything!)
2. Pride and Prejudice – Jane Austen
Being the first book of this era I have read i nearly gave up as i struggled with the text for a while and the beginning was a little boring. However i slowly got used to the language and loved it and couldn't put it down for days!
3. Fury – Elizabeth Miles
Ok this book was rather terrible, the only thing that stopped me putting it down was my want to know what happens at the end and because I had paid for it and didn't want to waste my money.
4. The Beautiful Dead: Jonas – Eden Maguire
This book was written terribly but the story had potential and I wanted to know the result on the murder mystery so I didn't give up.
5. Vampire Diaries The Return: Nightfall – L.J. Smith
I loved the previous vampire diaries books so expected great things. but this book was so out there and confusing the only reason i didn't put it down was because of a hope that it will go back to the great books I knew (It didn't…)
May 20th – Ten books about friendship
1.
Percy Jackson – Rick Riordan
This book centers around the closest group of friends that I have ever read in a book series (excluding Harry Potter) They share so much pain and joy that it is beautiful. The books wouldn't exist without their friendship and love for eachother.
2.
The Iron King – Julie Kagawa
Meghan wouldn't have survived in the Never Never without the friendship and alliances she formed. Her friendship with Puck was the sweetest however and the way she would trust him with anything, and he would always look after her and get into trouble for her without even thinking!
3. Harry Potter – J.K. Rowling
Ok, everyone knows of the friendship between Harry, Ron and Hermione. It is the coolest and the sweetest most trusting relationship I know. They go through so much together they couldn't help becoming like family. They also complement eachother very well with Ron's humor, Harry's bravery and Hermione's knowledge. 
4. Wings – Aprilynne Pike
The friendship between Laurel, Chelsea and David was so strong as it survived all of the revelations and twists in the book. It survived even a great war which they all willing followed Laurel into even though it was nothing to do with them technically. I also loved the friendship with Tamani and Laurel before they (Finally!!! #TeamTam!) got together!
5. Morganville Vampires – Rachel Caine
The Friendship between Michael, Shane, Claire and Eve has to be one of my favorites as it is so touching and yet also very care free and funny! I also like the friendship there share with the likes of Oliver and Amelie and especially Claire's friendship to Myrnin (who is one of my favorite book characters ever!)
May 27th – Top ten Tuesday freebie. My Favorite Books as a 13 year old.
2. 
Percy Jackson – Rick Riordan
3. 
H
.I.V.E
. – Mark Walden
4.
House of Night – P.C and Kristin Cast
5.
Kane Chronicles – Rick Riordan
June 3rd – Top ten books that should be in your beach bag this summer.
2. Percy Jackson and The Lightning Thief – Rick Riordan
3. Marked – P.C and Kristin Cast
4. The Devil Wears Prada –
Lauren Weisberg

er
5. Bridget Jones's Diary – Helen Fielding