Title: Eragon (The Inheritance Cycle #1)
Author: Christopher Paolini
Publisher: Knopf Books
Genres: Fantasy, Adventure
Release Date: April 2005
Pages: 503
Where Acquired: Amazon
Buy at Amazon Here 
– Book Price: £1.74 Kindle Price: £3.99 (as of when posted) 

Cover: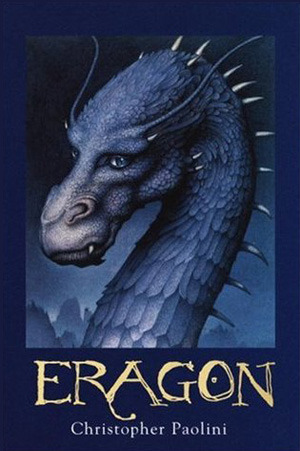 Cover From Elsewhere (Russia):

Goodreads Description:  
One boy . . .
One dragon . . .
A world of adventure.
When Eragon finds a polished blue stone in the forest, he thinks it is the lucky discovery of a poor farm boy; perhaps it will buy his family meat for the winter. But when the stone brings a dragon hatchling, Eragon soon realizes he has stumbled upon a legacy nearly as old as the Empire itself.
Overnight his simple life is shattered, and he is thrust into a perilous new world of destiny, magic, and power. With only an ancient sword and the advice of an old storyteller for guidance, Eragon and the fledgling dragon must navigate the dangerous terrain and dark enemies of an Empire ruled by a king whose evil knows no bounds.
Can Eragon take up the mantle of the legendary Dragon Riders? The fate of the Empire may rest in his hands.

My Review: 
This book was very slow going in parts, mainly the sections where they were just traveling for a whole chapter and nothing happened other then they sparred and chatted to eachother. So I was a little disappointing considering the hype on this series had made me really excited to read this, it was a 500 page book that probably could have been better at 300 pages. However the action parts in this book and the parts involving magic and magical creatures were thrilling! I loved the end section of the book the best, the part where Eragon began to find his destiny and when he fought in the war. Eragon is a strong character and a compelling protagonist where you can see his growth from a normal farm boy to a dragon rider perfectly. He is a flawed character with tendencies to actually have childish thoughts and this is one reason he is so lovable. He cares about his family as is reluctant to take on his destiny at first and by the end it was lovely to see how much he had grown and matured! So all in all, this book was a little slow and disappointing but enjoyable, just not one that I can say was a favorite.
Quotes: 


"Books are my friends, my companions. They make me laugh and cry and find meaning in life."
"Saphira to Eragon: "If anything happens, I'm going to pin you to my back and never let you off.
Eragon: I love you too.
Saphira: Then I will bind you all the tighter." 

Rating: 
Why Don't You Leave Me A Comment, Or a Link To Your Own Blog?
I Would Love To Hear Your Views!