Top Ten Characters that would sit at my lunch table in High School
  *All images used are not my own so have been hyperlinked to the source, they are also not all official images of the characters some are just what I imagine them to look like*

1. Claire Danvers Morganville Vampires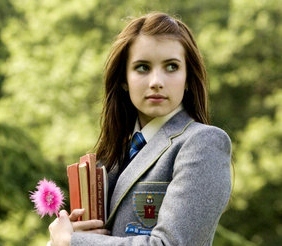 I like to surround myself with brainy people who put their studies high on their list of important activities like Claire. She is also a lovely girl who would be great to hang around with, there would be a lot I can learn from her and I love her inner strength. She is one of the characters I can relate to the most and from the first time I read about her I just knew we could be best friends! Oh and she can introduce me to Myrnin (hehe)
  
2. Hermione Granger Harry Potter

I've always looked up to Hermione as a role model since I was very young (Yes I know she is a book character but it is better than looking up to a self-important celebrity that is made of plastic!) So I would be honored to have her at my table. I think that maybe she would want to sit with me as I tend to be very separate from the popularity rankings in the school and I like to learn as much as she does. Hermione has a lovely personality too and is very loyal, she has some of the best qualities I would look for in a friend.

 
3.  Otto Malpense H.I.V.E

Again a clever, underestimated character who I could learn a lot from. I would have a lot of fun having him at the lunch table and he could tell me some brilliant stories and he could teach me some of his villainous tricks!
4. Damien Maslin The House Of Night

He is one of the wisest characters and would have some brilliant advice if anyone on my table was struggling with something. He is also funny and and a bit of an outcast (Like me!) so would would get on brilliantly. Plus he likes America's next top model so we can sit and gossip over lunch!
5. Annabeth Chase Percy Jackson & The Heroes of Olympus

Smart and feisty! She would just be so much fun to be around! Once you gain her trust she is one of the best friends anyone can have, she would always defend you in a fight! Plus we can sit and discuss Greek mythology over our sandwiches!


6. Carter Kane The Kane Chronicles

He has seen so much of the world and would have some interesting stories! He is also very bookish like the rest of my table so he would fit in well. Carter and Annabeth can swap their mythology-come-to-life tales and I can sit there and listen to it all in complete fan-girl excitement!


7. Emerson Watts Airhead (Before she became Nikki)


She doesn't care at all of what people think about her and isn't afraid to admit to being a geek! That points her out as a great friend, who is honest and loyal. She would rather play a computer game with her friends than go out partying and getting drunk so I could just see us having so much in common!



8. Laurel Sewell Wings

Not the usual type of person I would hang around with due to her being a little less bookish however she is one of the kindest people with a lovely personality. She would be great to have at my table as we can sit and talk about boy problems that some of the more bookish characters may be adverse to chatting about! She would also be able to tell me some very interesting tales about Avalon.


9. Zara White Need

Zara is also a little bit of an outcast so she can join my oddball table. However she is strong and very exciting and would have some great tales to tell! I always liked her a lot when reading her books due to her very caring nature but also because of her very strong loyalties to her friends!

10. America Singer The Selection

She is just someone I would die to have on my table! She isn't afraid to say what she feels and is so humble in the way she sticks up for anyone that needs help! She is so kind hearted and generous she could help me become a better person while making me die of laughter in the process. She is just the kind of girl I would love to have as a best friend!