Title: The Selection
Author: Kiera Cass
Publisher: HarperTeen
Genres: YA, Romance, Dystopian
Release Date: April 1st 2012
Pages: 336
Where Acquired: Kindle Store
Buy at Amazon Here
– Best Book Price: £5.98 Kindle Price: £3.85 (as of when posted) 
UK Cover: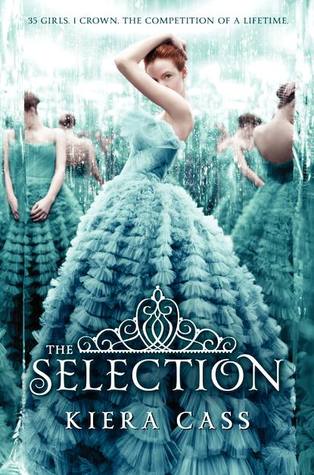 A Cover From Elsewhere (Romania): 


Goodreads Description: 
For thirty-five girls, the Selection is the chance of a lifetime. The opportunity to escape the life laid out for them since birth. To be swept up in a world of glittering gowns and priceless jewels. To live in a palace and compete for the heart of gorgeous Prince Maxon.
But for America Singer, being Selected is a nightmare. It means turning her back on her secret love with Aspen, who is a caste below her. Leaving her home to enter a fierce competition for a crown she doesn't want. Living in a palace that is constantly threatened by violent rebel attacks.
Then America meets Prince Maxon. Gradually, she starts to question all the plans she's made for herself–and realizes that the life she's always dreamed of may not compare to a future she never imagined.
Title: The Elite
Author: Kiera Cass
Publisher: HarperTeen
Genres: YA, Romance, Dystopian
Release Date: April 23rd 2013
Pages: 336
Where Acquired: Kindle Store
Buy at Amazon Here
– Best Book Price: £5.72 Kindle Price: £5.35 (as of when posted) 
UK Cover: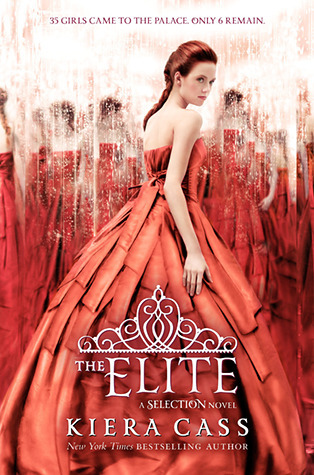 A Cover From Elsewhere (Indonesian): 


Goodreads Description: 
The Selection began with thirty-five girls.
Now with the group narrowed down to the six Elite, the competition to win Prince Maxon's heart is fiercer than ever—and America is still struggling to decide where her heart truly lies. Is it with Maxon, who could make her life a fairy tale? Or with her first love, Aspen?
America is desperate for more time. But the rest of the Elite know exactly what they want—and America's chance to choose is about to slip away.
 Title: The One
Author: Kiera Cass
Publisher: HarperTeen
Genres: YA, Romance, Dystopian
Release Date: June 5th 2014
Pages: 323
Where Acquired: Kindle Store
Buy at Amazon Here
– Best Book Price: £6.25 Kindle Price: £3.85 (as of when posted) 
UK Cover: 


A Cover From Elsewhere (Portugal): 


Goodreads Description: 
The Selection changed America Singer's life in ways she never could have imagined. Since she entered the competition to become the next princess of Illéa, America has struggled with her feelings for her first love, Aspen—and her growing attraction to Prince Maxon. Now she's made her choice . . . and she's prepared to fight for the future she wants.
Find out who America will choose in The One, the enchanting, beautifully romantic third book in the Selection series!
My Review: 
This series is so compelling. Not only are the covers extremely beautiful and stunning but the content inside is just as fantastic. Set in a dystopian America we see a perfectly crafted world with incredible detail. The world is very different from our own yet you slip into it with ease and the more you read the more it seems normal and is very easy to understand. The characters are well developed and relatable, America is a great lead as she isn't afraid to be different, not always being perfect and making mistakes. Maxon is dreamy and I was totally in love with him from the very begining and wished him and America's happy ending throughout the whole sereis. I was never really ever on team Aspen but his loyalty to America was admirable, I do hate love triangles though and was Team Maxon though every book. I'm glad Aspen found his happy ever after in the end though as he was always a kind, loyal and deep character and I would hate to see him hurting. Some of the deaths in this series were heartbreaking and the twists were so sudden and relentless that they had me screaming and crying along with our characters. *SPOILER* Along with the revolation that Maxon's dad abuses him; the massacure and America's father's deaths in 'The One' hit me hardest. I actually shed a tear (rare for me!!) when America was reading her father's letter after he passed; It was just so heartbreaking! 
This series is fast paced, romantic, and thought provoking. It is a quick read due to the fact that you can't put it down once you pick it up. Once I read 'The Selection' (In one day I may add…) I baught 'The Elite' there and then and read that too. But By the next day when I had finished that book too I couldn't buy 'The One' as it hadn't been released yet. However now I have finally baught and read 'The One' I automatically baught the novellas and sequel 'The Heir' straight away! 
'The Heir' looks so good as it's set in Maxon and America's future surrounding their child and the childs selection process!
Here is the goodreads description for 'The Heir':
Twenty years ago, America Singer entered the Selection and won Prince Maxon's heart. Now the time has come for Princess Eadlyn to hold a Selection of her own. Eadlyn doesn't expect her Selection to be anything like her parents' fairy-tale love story. But as the competition begins, she may discover that finding her own happily ever after isn't as impossible as she always thought
And It's Cover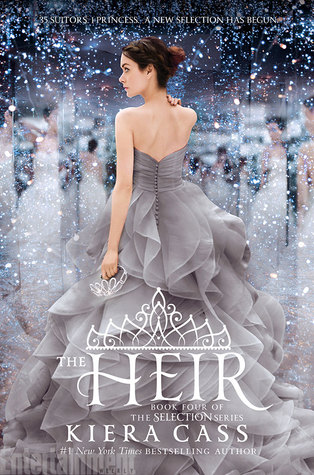 Which is just as stunning and the rest of the series; makes me a little sad that I baught the series on Kindle to be honest as they are some of the best book covers I have ever seen!
Quotes: 
"No, I'm not choosing him or you. I'm choosing me." -The Selection
 "- Just that. Your family must be very different from mine.
– I'd say so. – I laughed. – For one, no one wears their tiaras to breakfast.
– Maxon smiled. – More of a dinner thing at the Singer house?"
– "Of course."

-The Selection
 "It wasn't like I made his world better. It was like I was his world. It wasn't some explosion; it wasn't fireworks. It was a fire, burning slowly from the inside out." -The Elite
"I sighed. "Actually, Mom, we argue pretty regularly."
"What?" She gaped at me. "Well, stop it!"
"Oh, and I kneed him in the groin once."
There was a split second of silence before May barked a laugh. She covered her mouth and tried to stop it, but it kept coming out in awkward, squeaky sounds. Dad's lips were pressed together, but I could tell he was on the verge of losing it himself.
Mom was paler then snow.
"America, tell me you're joking. Tell me you didn't assault the prince."
I don't know why, but the word assault pushed us all on the edge; and May, Dad, and I bent over laughing as Mom stared at us.
"Sorry, Mom," I managed.
"Oh, good lord." She suddenly seemed very excited in meeting Marlee's parents, and I didn't stop her from going." -The Elite
"America, my love, you are sunlight falling through trees. You are laughter that breaks through sadness. You are the breeze on a too-war day. You are clarity in the midst of confusion.
You are not the world, but you are everything that makes the world good. Without you, my life would still exist, but that's all it would manage to do.
You said that to get things right one of us would have to take a leap of faith. I think I've discovered the canyon that must be leaped, and I hope to find you waiting for me on the other side.
I love you, America.
Yours forever,
Maxon" – The One
Overall Rating: 
3 Similar Books You May Enjoy (Goodreads):

Have You Read This Book? 
How Did You Find It? 
Why Don't You Leave Me A Comment, Or a Link To Your Own Blog? 
I Would Love To Hear Your Views! 
-The Reading Rose