Title: The Goddess Test (Goddess Test #1)
Author: Aimee Carter
Publisher: Harlequin Teen
Genres: YA, Fantasy, Romance
Release Date: April 19th 2011
Pages: 293
Where Acquired: Amazon Kindle Store
Buy at Amazon Here 
– Best Book Price: £2.81 Kindle Price: £4.19 (as of when posted) 
UK Cover: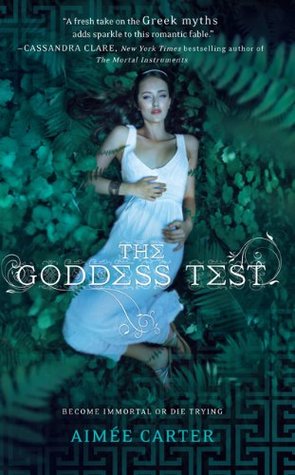 A Cover From Elsewhere (Australia):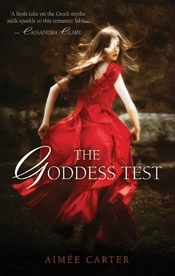 Goodreads Description: 
Every girl who had taken the test has died.
Now it's Kate's turn.
It's always been just Kate and her mom – and her mother is dying. Her last wish? To move back to her childhood home. So Kate's going to start at a new school with no friends, no other family and the fear that her mother won't live past the fall.
Then she meets Henry. Dark. Tortured. And mesmerizing. He claims to be Hades, god of the Underworld – and if she accepts his bargain, he'll keep her mother alive while Kate tries to pass seven tests.
Kate is sure he's crazy – until she sees him bring a girl back from the dead. Now saving her mother seems crazily possible. If she succeeds, she'll become Henry's future bride and a goddess.
If she fails…
My Review:
This story begins as very sad. Kate's mother is slowly dying and Kate believes she is seeing her last days. School becomes difficult and she withdraws herself from the world. Other than one friend James she makes at her new school she struggles to connect with anyone else and your heart goes out to her. But just as her mother is deteriorating further a dark and mysterious stranger named Henry walks into her life claiming he is Hades god of the underworld. He makes a deal with her to keep her mother alive as long as she goes through the goddess test that everyone has failed before her. I loved the idea of the tests that reminded me a little of The Selection. She was challenged on all seven sins in a sneaky way and the twists in the book had me astounded. 
SPOILER ALERT!
The first shock twist was that all the staff and James were Greek deities as well as Henry but the most shocking twist of all was when Kate's mother turned up at the end and revealed she is the goddess Diana. Her and Kate's reunion was heart breaking and bittersweet to see and that was one of the reasons I enjoyed the book so much.
It was a brilliant book and I can't wait to read the next book. At first I felt like the book was wrapped up well and didn't need a sequel much but when I read into it the sequel gives a new perspective on the world that was created as we see the Greek Mythology in more depth that before. So I can't wait to read it now. I love anything to do with Greek Mythology so thee is no surprise that I gave this five stars. 
Quotes: 
"Maybe you'll win when hell freezes over." He raised an eyebrow. "That could be easily arranged."
"Do you think he's cute?" I rolled my eyes. "He's a god, Mom. Of course he's cute."
Rating: 
3 Similar Books You May Enjoy (Goodreads): 

Have You Read This Book? How Did You Find It?
Why Don't You Leave Me A Comment, Or a Link To Your Own Blog?
I Would Love To Hear Your Views!