Title: Across The Universe (Across the Universe #1)

Author: Beth Revis

Publisher: Razorbill
Genres: YA, Sci-Fi, Dystopia
Release Date: January 11th 2011

Pages: 398
Where Acquired: Amazon Kindle
Buy at Amazon Here 
– Best Book Price: £2.81 Kindle Price: £3.99 (as of when posted) 

UK Cover: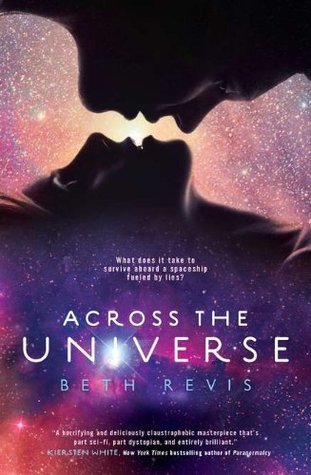 A Cover From Elsewhere: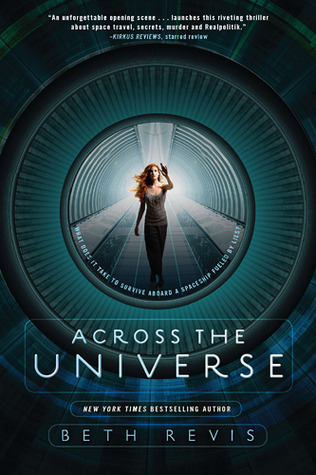 Goodreads Description: 
Seventeen-year-old Amy joins her parents as frozen cargo aboard the vast spaceship Godspeed and expects to awaken on a new planet, three hundred years in the future. Never could she have known that her frozen slumber would come to an end fifty years too soon and that she would be thrust into the brave new world of a spaceship that lives by its own rules.
Amy quickly realizes that her awakening was no mere computer malfunction. Someone – one of the few thousand inhabitants of the spaceship – tried to kill her. And if Amy doesn't do something soon, her parents will be next.
Now Amy must race to unlock Godspeed's hidden secrets. But out of her list of murder suspects, there's only one who matters: Elder, the future leader of the ship and the love she could never have seen coming.

My Review: 
This book was so interesting. I absolutly loved the concept and the excitement of it. Not only was the romance sweet and gentle but the murder mystery that was thrown in was entertaining and fun to try and solve for the reader. I loved the way we got to see the book in two POVs one from someone born on the ship and one from someone disocvering it with new eyes. The corruption of the ship was reminicent of something from Game of Thrones it was that bad. I loved the voice of Elder and Amy, they were both very interesting characters. Elder was interesting for the fact that he couldn't see the blatent strangness of the ship and for his adoration of Eldest. Amy was interesting for her story. Cryrogenics are interesting enough but Amy remained consious for the 200+ years she was stuck frozen in ice and i can't imagine anything more terifying than that! I'm suprised when she woke that she was as normal as what she is. You also really felt for her when she realised she was stuck on the ship and never going to see her family again as you could tell how much she loves her parents. You also really felt for the characters thoughout the whole book, so much heart went into the writing. I especially felt bad for them when they realised they were not going to reach earth in their lifetime. Last point about this book is that the mating season was so creepy! Where did Revis come up with an Idea like that? The whole concept of the ship's society was my favourite part. I love a good Dystopian society and this is up there with the best. It is very different from anything I have read before.

Quotes: 
 "That's all you need to know about Godspeed," he says. "Although you should also know this. I am Eldest." Good for you, I think. Congrats on being old." -Amy (Amy never lost her sarcasm and witt)
 "I never thought about how important the sky was until I didn't have one." -Amy

"He sounds like a regular Hitler to me", Amy mutters.
I wonder what she means by that. Eldest has always taught me that Hitler was a wise, cultured leader for his people. Maybe that's what she means: Eldest is a strong leader, like Hitler was." -Eldest (shows you how different the society is from what Amy was used to, right?)


Rating: 




 3 Similar Books You May Enjoy (Goodreads): 


Have You Read This Book? How Did You Find It?
Why Don't You Leave Me A Comment, Or a Link To Your Own Blog?
I Would Love To Hear Your Views!