This is a weekly Meme hosted by The Broke and the Bookish Where Fellow Book Bloggers Share Their Top Ten of The Given Subject.
Top Ten Most Anticipated Releases for the Rest of 2015
I am only going to write

3

for this list today as I can't think of many books that are being released that I want to read. I am too busy catching up with books that are already released that I want to read. Also I am only doing 3 as the series I did keep up with have all ended or the books are released next year. So

3

it is, sorry about that everyone.
 
1. Magnus Chase and the Sword of Summer [Rick Riordan]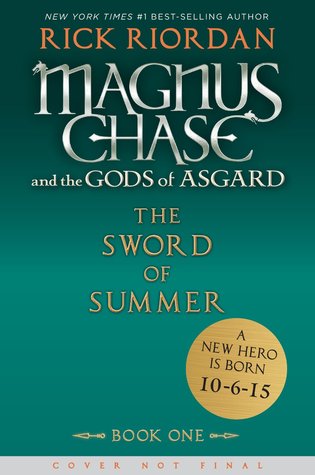 Magnus Chase has always been a troubled kid. Since his mother's mysterious death, he's lived alone on the streets of Boston, surviving by his wits, keeping one step ahead of the police and the truant officers. One day, he's tracked down by a man he's never met—a man his mother claimed was dangerous. The man tells him an impossible secret: Magnus is the son of a Norse god. The Viking myths are true. The gods of Asgard are preparing for war. Trolls, giants and worse monsters are stirring for doomsday. To prevent Ragnarok, Magnus must search the Nine Worlds for a weapon that has been lost for thousands of years. When an attack by fire giants forces him to choose between his own safety and the lives of hundreds of innocents, Magnus makes a fatal decision. Sometimes, the only way to start a new life is to die . . . This is easily my most anticipated book of the year. This is beacuse (as you all know by now) Rick Riordan is my favourite author and it has been a long time since we have had anything un-greek/roman from him. I absolutly cant wait for this to come out and as it comes out of my birthday (like most of his books – I can't complain) I will propbably get it as a birthday present. RELEASED 6TH OCTOBER 2015
2. Percy Jackson's Greek Heroes [Rick Riordan]

Who cut off Medusa's head? Who was raised by a she-bear? Who tamed Pegasus? It takes a demigod to know, and Percy Jackson can fill you in on the all the daring deeds of Perseus, Atalanta, Bellerophon, and the rest of the major Greek heroes. Told in the funny, irreverent style readers have come to expect from Percy, ( I've had some bad experiences in my time, but the heroes I'm going to tell you about were the original old school hard luck cases. They boldly screwed up where no one had screwed up before. . .) and enhanced with vibrant artwork by Caldecott Honoree John Rocco, this story collection will become the new must-have classic for Rick Riordan's legions of devoted fans–and for anyone who needs a hero. So get your flaming spear. Put on your lion skin cape. Polish your shield and make sure you've got arrows in your quiver. We're going back about four thousand years to decapitate monsters, save some kingdoms, shoot a few gods in the butt, raid the Underworld, and steal loot from evil people. Then, for dessert, we'll die painful tragic deaths. Ready? Sweet. Let's do this. Another Riordan book I am super excited for the release. The greek god's book of a similar style was witty, informative and interesting so I can't wait to learn more about the hero side of greek mythology. I have a big love for learning about greek mythology anyway so these books are perfect for me. AUGUST 6TH 2015
 
3. The Favourite (The Selection Novella #2.6) [Kiera Cass]

While America Singer's heart was torn between Aspen and Prince Maxon, her friend Marlee knew exactly what she wanted—and paid the price. Revisit the captivating world of Kiera Cass's #1 New York Times bestselling Selection series in this digital original novella. Told from Marlee's point of view, this all-new 64-page story returns to the fateful Halloween when Marlee and Carter were discovered, and reveals how that night—and Prince Maxon—changed their lives forever. The Favorite also features a teaser to The Heir, the fourth novel in the Selection series! The selection is one of my favourite series so I would have put the Heir on this list had I written it a month ago. However while we have been waiting Cass has been releasing a bundle of novellas. I have read and loved the Queen and The Prince and reluctantly read The Guard but now comes The Favourite; One I am very excited for as it shows what actually happened to Marlee from her percpective at long last. OCTOBER 6TH 2015 [Wait, what? Another book out on my birthday.. AWESOME!]