Inspired by Channel 5's End of the World Weekend. If any other bloggers would like to take part and create an end of the world post of their own, send your links to me and I will feature your posts within this one. 
This List is made up of Goodreads Recomendations of some of my favourite Apocolyptic and Dystopian books so I have not read any myself and it is a kind of End Of The World TBR. All of these books are the first in their series. Happy Reading!
THE LEVELLER
Julia Durango
Nixy Bauer is a self-made Leveller. Her job? Dragging kids out of virtual reality and back to their parents in the real world. It's normally easy cash, but Nixy's latest mission is fraught with real danger, intrigue, and romance.
Nixy Bauer is used to her classmates being very, very unhappy to see her. After all, she's a bounty hunter in a virtual reality gaming world. Kids in the MEEP, as they call it, play entirely with their minds, while their bodies languish in a sleeplike state on the couch. Irritated parents, looking to wrench their kids back to reality, hire Nixy to jump into the game and retrieve them.
But when the game's billionaire developer loses track of his own son in the MEEP, Nixy is in for the biggest challenge of her bounty-hunting career. Wyn Salvador isn't some lazy kid looking to escape his homework: Wyn does not want to be found. And he's left behind a suicide note. Nixy takes the job but quickly discovers that Wyn's not hiding—he's being held inside the game against his will. But who is holding him captive, and why?
Nixy and Wyn attempt to fight their way out of a mind game unlike any they've encountered, and the battle brings them closer than either could have imagined. But when the whole world is virtual, how can Nixy possibly know if her feelings are real?
Gamers and action fans of all types will dive straight into the MEEP, thanks to Julia Durango's cinematic storytelling. A touch of romance adds some heart to Nixy's vivid, multidimensional journey through Wyn's tricked-out virtual city, and constant twists keep readers flying through to the breathtaking end.
ROT AND RUIN
Johnathan Maberry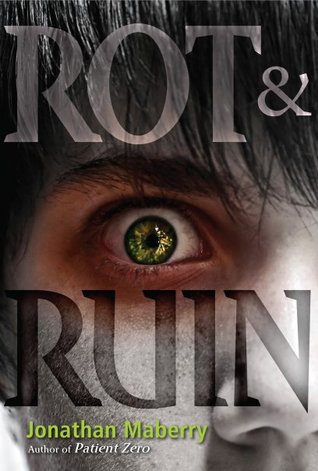 In the zombie-infested, post-apocalyptic America where Benny Imura lives, every teenager must find a job by the time they turn fifteen or get their rations cut in half. Benny doesn't want to apprentice as a zombie hunter with his boring older brother Tom, but he has no choice. He expects a tedious job whacking zoms for cash, but what he gets is a vocation that will teach him what it means to be human.
TUMBLE AND FALL
Alexandra Coutts
The world is living in the shadow of oncoming disaster. An asteroid is set to strike the earth in just one week's time; catastrophe is unavoidable. The question isn't how to save the world—the question is, what to do with the time that's left? Against this stark backdrop, three island teens wrestle with intertwining stories of love, friendship and family—all with the ultimate stakes at hand.
High-stakes action combines with issues of friendship and body image in this timely and thought-provoking exploration of the intersection of technology and identity. 
In a near-future world in which technology can transport you anywhere instantly, can a coded note enable you to change your body—to become taller, stronger, more beautiful? Clair is pretty sure the offer is too good to be true. But her best friend, Libby, is determined to give it a try, longing for a new, improved version of herself.
What starts as Libby's dream turns into Clair's nightmare when Libby falls foul of a deadly trap. With the help of Jesse, the school freak, and a mysterious—but powerful—stranger called Q, Clair's attempt to protect Libby leads her to an unimagined world of conspiracies and cover-ups. Soon her own life is at risk, and Clair is chased across the world in a desperate race against time.
Action and danger fuel Sean Williams' tale of technology, identity, and the lengths to which one girl will go to save her best friend.
Laura and Alec are trained terrorists.
Jack and Aubrey are high school students.
There was no reason for them to ever meet.
But now, a mysterious virus is spreading throughout America, infecting teenagers with impossible powers. And these four are about to find their lives intertwined in a complex web of deception, loyalty, and catastrophic danger—where one wrong choice could trigger an explosion that ends it all
REPLICA
Jenna Black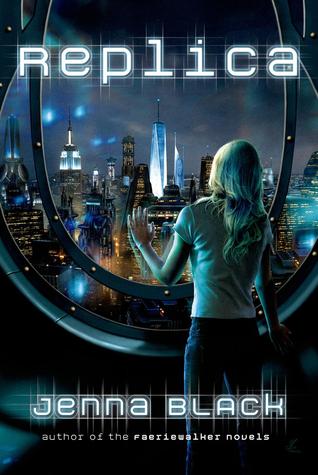 Breathtaking new YA SF from the author of the Faeriewalker series
Sixteen-year-old Nadia Lake comes from a high-class Executive family in the Corporate States. Her marriage has been arranged with the most powerful family in her state, which means she lives a life of privilege but also of public scrutiny, followed everywhere by photographers, every detail of her private life tabloid fodder. But her future is assured, as long as she can maintain her flawless public image — no easy feat when your betrothed is a notorious playboy.
Nathan Hayes is the heir of Paxco — controller of the former state of New York, and creator of human replication technology, science that every state and every country in the world would kill to have. Though Nadia and Nate aren't in love, they've grown up close, and they (and the world) are happy enough with their match.
Until Nate turns up dead, and as far as everyone knows, Nadia was the last person to see him alive.
When the new Nate wakes up in the replication tanks, he knows he must have died, but with a memory that only reaches to his last memory backup, he doesn't know what killed him. Together, Nadia and Nate must discover what really happened without revealing the secrets that those who run their world would kill to protect.
STUNG
Bethany Wiggins
There is no cure for being stung.
Fiona doesn't remember going to sleep. But when she awakens, her world no longer exists. Her house is abandoned and broken. Her neighborhood is barren and dead. And there is a tattoo on her right hand. A tattoo Fiona doesn't remember getting…but somehow she must conceal at any cost. Because humanity has been divided.
Those bearing the tattoo have turned into mindless, violent beasts that roam the streets and sewers, preying upon the unbranded, while a select few live protected inside a fortresslike wall, their lives devoted to rebuilding society and killing all who bear the mark.
And Fiona has awoken branded, on the wrong side of the wall, and…normal.
From the author of Shifting comes this remarkable reimagining of Sleeping Beauty, where the sting of a bee, rather than the prick of a needle, can destroy the world.
THE DOLLHOUSE ASYLUM
Mary Gray
A virus that had once been contained has returned, and soon no place will be left untouched by its destruction. But when Cheyenne wakes up in Elysian Fields–a subdivision cut off from the world and its monster-creating virus–she is thrilled to have a chance at survival.
At first, Elysian Fields,with its beautiful houses and manicured lawns, is perfect. Teo Richardson, the older man who stole Cheyenne's heart, built it so they could be together. But when Teo tells Cheyenne there are tests that she and seven other couples must pass to be worthy of salvation, Cheyenne begins to question the perfection of his world.
The people they were before are gone. Cheyenne is now "Persephone," and each couple has been re-named to reflect the most tragic romances ever told. Everyone is fighting to pass the test, to remain in Elysian Fields. Teo dresses them up, tells them when to move and how to act, and in order to pass the test, they must play along.
If they play it right, then they'll be safe.
But if they play it wrong, they'll die. 
PAWN
Aimee Carter
For Kitty Doe, it seems like an easy choice. She can either spend her life as a III in misery, looked down upon by the higher ranks and forced to leave the people she loves, or she can become a VII and join the most powerful family in the country.
If she says yes, Kitty will be Masked—surgically transformed into Lila Hart, the Prime Minister's niece, who died under mysterious circumstances. As a member of the Hart family, she will be famous. She will be adored. And for the first time, she will matter.
There's only one catch. She must also stop the rebellion that Lila secretly fostered, the same one that got her killed …and one Kitty believes in. Faced with threats, conspiracies and a life that's not her own, she must decide which path to choose—and learn how to become more than a pawn in a twisted game she's only beginning to understand.
Previously titled Masked.
ABERRANT
Ruth Silver
In the future Dystopian society of Cabal, the government instills equality for all and offers its citizens the perfect system. There is food, shelter and jobs for everyone. The one requirement is to follow the rules without question, including the government's match in marriage and "The Day of the Chosen", a lottery that randomly selects families to conceive children as natural means hasn't existed in generations. Following her eighteenth birthday, Olivia Parker accepts her requirement to marry her childhood best friend, Joshua Warren, and is eager to start her work assignment and new life when it all comes abruptly to an end as she's arrested and thrown in prison. The only crime committed, her existence. Olivia is unlike the rest of the world born not from "The Day of the Chosen." The truth haunts the government and puts her life in grave danger as one simple fact would destroy the perfect system.
With Joshua's help, Olivia breaks free of prison and is forced on the run. Together they set out to find the promised rebel town in search of a new home and new life together. Their situation seems less than promising as they reach the town of Haven. New rules and customs must be adhered to in order to stay. Leaving would mean most certain death in the large expanse of the Gravelands. Time is running out as the government mounts an attack to destroy Olivia and bury her secret with her. Thrown into a world unlike their own, they must quickly adapt to survive.
THE DISSAPEARED
C. J. Harper
In a future where children are segregated into institutions that range from comfortable 'Learning Communities' to prison-like 'Local Academies', 17-year-old Jackson is an academic high flyer, living in a top Learning Community and destined for a position in the Leadership. But when he is sent with his best friend Wilson to deliver a package to a factory block, the two boys are attacked leaving Jackson badly beaten and Wilson dead. Confused and upset, Jackson returns to his Learning Community only to be dismissed by his teachers who claim not to know him. Sent to an Academy, Jackson finds himself immersed in a world that couldn't be further removed than the one he's used to.
Twenty years ago, the robots designed to fight our wars abandoned the battlefields. Then they turned their weapons on us.
Only a few escaped the robot revolution of 2071. Kevin, Nick, and Cass are lucky —they live with their parents in a secret human community in the woods. Then their village is detected and wiped out. Hopeful that other survivors have been captured by bots, the teens risk everything to save the only people they have left in the world—by infiltrating a city controlled by their greatest enemies.
Revolution 19 is a cinematic thriller unlike anything else. With a dynamic cast of characters, this surefire blockbuster has everything teen readers want—action, drama, mystery, and romance. Written by debut novelist Gregg Rosenblum, this gripping story shouldn't be missed.