This is a weekly Meme hosted by The Broke and the Bookish Where Fellow Book Bloggers Share Their Top Ten of The Given Subject.
Top Ten Favorite 2016 Releases So Far This Year

Author: Kiera Cass. Status: Read. Release Date: January 26th 2016.
Love is a risk worth taking.
Years ago, Kahlen was rescued from drowning by the Ocean. To repay her debt, she has served as a Siren ever since, using her voice to lure countless strangers to their deaths. Though a single word from Kahlen can kill, she can't resist spending her days on land, watching ordinary people and longing for the day when she will be able to speak and laugh and live freely among them again.
Kahlen is resigned to finishing her sentence in solitude…until she meets Akinli. Handsome, caring, and kind, Akinli is everything Kahlen ever dreamed of. And though she can't talk to him, they soon forge a connection neither of them can deny…and Kahlen doesn't want to.
Falling in love with a human breaks all the Ocean's rules, and if the Ocean discovers Kahlen's feelings, she'll be forced to leave Akinli for good. But for the first time in a lifetime of following the rules, Kahlen is determined to follow her heart.
This book is fantastic, there have been quite a few siren or mermaid books released lately but the lore and mythology in this is refreshing and new. I would give it a go, especially as it contains a complex set of emotions that will catch you off guard.


Author: Rick Riordan. Status: Read. Release Date: May 3rd 2016.
How do you punish an immortal?
By making him human.
After angering his father Zeus, the god Apollo is cast down from Olympus. Weak and disorientated, he lands in New York City as a regular teenage boy. Now, without his godly powers, the four-thousand-year-old deity must learn to survive in the modern world until he can somehow find a way to regain Zeus's favour.
But Apollo has many enemies – gods, monsters and mortals who would love to see the former Olympian permanently destroyed. Apollo needs help, and he can think of only one place to go . . . an enclave of modern demigods known as Camp Half-Blood.
See my review for this book Here 

Author: Kiera Cass. Status: Read. Release Date: May 3rd 2016.
When Eadlyn became the first princess of Illéa to hold her own Selection, she didn't think she would fall in love with any of her thirty-five suitors. She spent the first few weeks of the competition counting down the days until she could send them all home. But as events at the palace force Eadlyn even further into the spotlight, she realizes that she might not be content remaining alone.
Eadlyn still isn't sure she'll find the fairytale ending her parents did twenty years ago. But sometimes the heart has a way of surprising you…and soon Eadlyn must make a choice that feels more impossible—and more important—than she ever imagined.
The thrilling finale of The Selection series centering around America's daughter Eadlyn. Full of politics, romance, suspense and love this series will always be one of my favorites and I am sad to see it end. There will be a review for this book coming soon.

Author: Rachel Caine. Status: Owned. Release Date: March 1st 2016.
MIDNIGHT BITES, the new Morganville Vampires short story anthology! It will bring together almost everything that I've written in short form about Morganville … though I did leave out some of the original "diary" entries that appeared on an earlier version of the Morganville website, simply because they were just scenes and not stories, and were generally really short snippets. This is all short fiction, and it's been carefully organized into the timeline, so you can read from the earliest adventures (some of which belong to vampires) all the way through some post-Daylighters goodies.
MIDNIGHT BITES includes a total of more than 50,000 words of brand new content, which makes me very happy indeed (and I hope will also make you happy, too). From stories featuring our favorite bunny-slipper-wearing mad scientist to a mystery solved by police chief Hannah Moses, I think you'll find this is a diverse group of stories that will shine a little more light in the murkiest corners of Morganville.
I was so excited when this book was released. I never did want to let this series go but I have never been a fan of reading on my computer. So when I heard that the short stories Caine writes for her website were being put in a book… I brought it instantly.

 
Author: Gena Showalter. Status: Want to Read. Release Date: February 23rd 2016.
ONE CHOICE.
TWO REALMS.
NO SECOND CHANCE.
Tenley "Ten" Lockwood is an average seventeen-year-old girl…who has spent the past thirteen months locked inside the Prynne Asylum. The reason? Not her obsession with numbers, but her refusal to let her parents choose where she'll live—after she dies.
There is an eternal truth most of the world has come to accept: Firstlife is merely a dress rehearsal, and real life begins after death.
In the Everlife, two realms are in power: Troika and Myriad, longtime enemies and deadly rivals. Both will do anything to recruit Ten, including sending their top Laborers to lure her to their side. Soon, Ten finds herself on the run, caught in a wild tug-of-war between the two realms who will do anything to win the right to her soul. Who can she trust? And what if the realm she's drawn to isn't home to the boy she's falling for? She just has to stay alive long enough to make a decision…
How beautiful is that cover! The concept of this book seems interesting, half paranormal and mythological, half dystopian.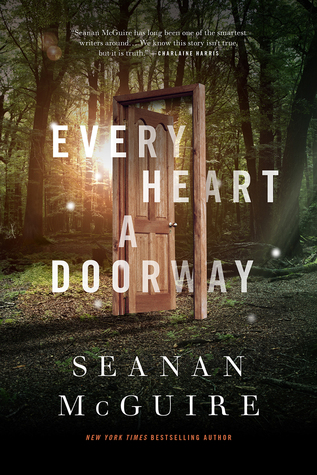 Author: Seanan McGuire. Status: Want to Read. Release Date: April 5th 2016.
Eleanor West's Home for Wayward Children
No Solicitations
No Visitors
No Quests
Children have always disappeared under the right conditions; slipping through the shadows under a bed or at the back of a wardrobe, tumbling down rabbit holes and into old wells, and emerging somewhere… else.
But magical lands have little need for used-up miracle children.
Nancy tumbled once, but now she's back. The things she's experienced… they change a person. The children under Miss West's care understand all too well. And each of them is seeking a way back to their own fantasy world.
But Nancy's arrival marks a change at the Home. There's a darkness just around each corner, and when tragedy strikes, it's up to Nancy and her new-found schoolmates to get to the heart of the matter.
No matter the cost.
A little Alice in wonderland, a little peter pan. This book looks interesting, what happens when the children return from the other worlds? That is a part of the story we are rarely told.
 
Author: Anna Breslaw. Status: Want to Read. Release Date: April 19th 2016.
Meet Scarlett Epstein, BNF (Big Name Fan) in her online community of fanfiction writers, world-class nobody at Melville High. Her best friends are Avery, a painfully shy and annoyingly attractive bookworm, and Ruth, her weed-smoking, possibly insane seventy-three-year-old neighbor.
When Scarlett's beloved TV show is canceled and her longtime crush, Gideon, is sucked out of her orbit and into the dark and distant world of Populars, Scarlett turns to the fanfic message boards for comfort. This time, though, her subjects aren't the swoon-worthy stars of her fave series—they're the real-life kids from her high school. And if they ever find out what Scarlett truly thinks about them, she'll be thrust into a situation far more dramatic than anything she's ever seen on TV…
I am a fangirl and a fanfiction writer so I was automatically drawn towards this book. It seems like it will be full of drama so I am looking forward to reading this one day.
 
Author: Kate Karyus Quinn. Status: Want to Read. Release Date: April 26th 2016.
Make a wish…
Lennie always thought her uncles' "important family legacy" was good old-fashioned bootlegging. Then she takes some of her uncles' moonshine to Michaela Gordon's annual house party, and finds out just how wrong she was.
At the party, Lennie has everyone make a wish before drinking the shine—it's tradition. She toasts to wishes for bat wings, for balls of steel, for the party to go on forever. Lennie even makes a wish of her own: to bring back her best friend, Dylan, who was murdered six months ago.
The next morning gives Lennie a whole new understanding of the phrase be careful what you wish for—or in her case, be careful what wishes you grant. Because all those wishes Lennie raised a jar of shine to last night? They came true. Most of them came out bad. And once granted, a wish can't be unmade…
Once again, what an amazing cover, those colours are stunning! This book is intreging as it seems to be a little fantasy and a little 16 Wishes. *Sings* I see trouble ahead…
 
Author: Megan Shepherd. Status: Next in series. Release Date: May 24th 2016.
They've left the cage—but they're not free yet.
After their failed escape attempt, Cora, Lucky, and Mali have been demoted to the lowest level of human captives and placed in a safari-themed environment called the Hunt, along with wild animals and other human outcasts. They must serve new Kindred masters—Cora as a lounge singer, Lucky as an animal wrangler, and Mali as a safari guide—and follow new rules or face dangerous consequences. Meanwhile, Nok and Rolf have been moved into an enormous dollhouse, observed around the clock by Kindred scientists interested in Nok's pregnancy. And Leon, the only one who successfully escaped, has teamed up with villainous Mosca black-market traders.
The former inhabitants of the Cage are threatened on all fronts—and maybe worst of all, one of the Hunt's Kindred safari guests begins to play a twisted game of cat and mouse with Cora. Separated and constantly under watch, she and the others must struggle to stay alive, never mind find a way back to each other. When Cassian secretly offers to train Cora to develop her psychic abilities—to prove the worthiness of humanity in a series of tests called the Gauntlet—she'll have to decide fast if she dares to trust the Kindred who betrayed her, or if she can forge her own way to freedom.
I have read the first book in this series, it was pretty good. A little slow to start, ameture and predictable at first and it was rather expensive at £11 when I purchased it. But the twists at the end were surprising and unpredictable and they caught me off guard. The ending left a lasting impression on me and that is why I am excited to read the squeal now. Although I will not be buying it at full price again.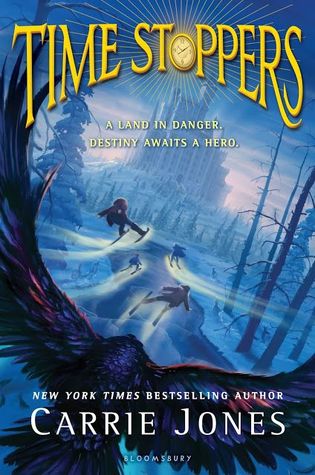 Author: Carrie Jones. Status: Want to Read. Release Date: May 3rd 2016.
Annie Nobody thought she was, well, nobody, living in a nowhere town where nothing goes her way. Day 1 at her newest foster home proves to be dreadful, too… and things get even worse when she's chased by something big and scary that definitely wants to eat her.
Luckily for Annie, not everything is what it seems, and she gets swept up-literally-by a sassy dwarf on a hovercraft snowmobile and taken to Aurora, a hidden, magical town on the coast of Maine. There, she finds a new best friend in Jamie Hephastion Alexander–who thought he was a normal kid (but just might be a troll)-and Annie discovers that she's not exactly who she thought she was, either. She's a Time Stopper, meant to protect the enchanted.
Together, Annie and Jamie discover a whole new world of magic, power, and an incredible cast of creatures and characters. But where there's great power, there are also those who want to misuse it, and Aurora is under siege. It's up to the kids to protect their new home, even if it means diving headfirst into magical danger.
I am a huge fan of Carrie Jones' (see my interview with her here) debut series Need (Find the review of one of the books here). So this book is the next logical step (I still need to read After Obsession too though). I love reading about magic and fantasy creatures such as dwarfs and trolls so this is right down my street.